These delicious bars are a big hit in our house, for several reasons!
They're really easy to make – preparation time is just a few minutes.
They're packed with the whole grain goodness of oats and the valuable antioxidants in the blueberries.
They're tasty enough for everyone in the house to enjoy!
They make a quick and easy breakfast, ideal for self-feeders and those doing baby led weaning.
They make a fantastic travel snack for days out and about.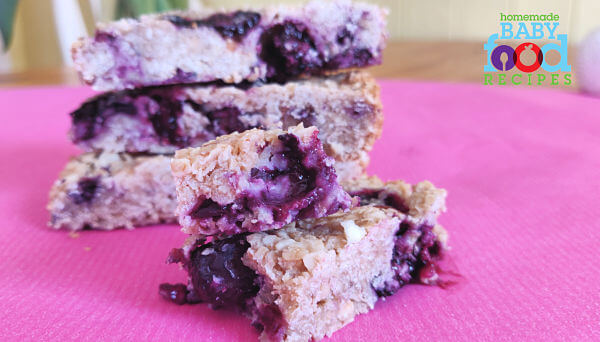 These tasty treats are ideal for older babies who are already comfortably biting and chewing. We introduced them to our little ones at around 11 months of age.
Once your baby is over 12 months of age, you can use honey instead of maple syrup to sweeten the bars if you prefer, although we love the flavour of maple syrup so much it's always our sweetener of choice!
This recipe makes 6 bars.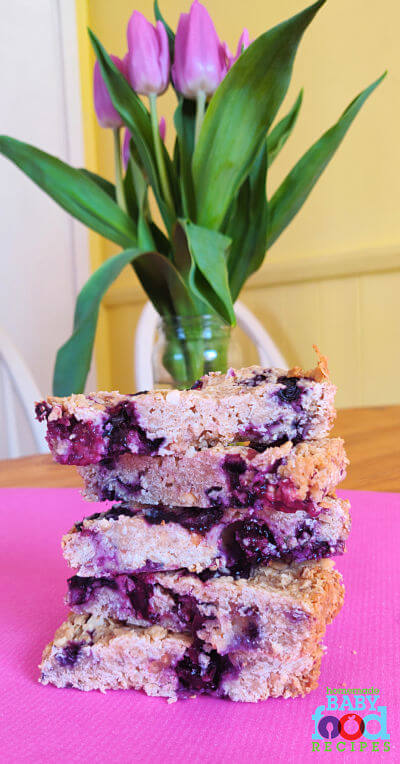 To make Baby's Blueberry Breakfast Bars you will need…
2 tablespoons smooth peanut butter
2.5 tablespoons coconut oil
2 tablespoons maple syrup
1 cup oats (don't use Instant Oats)
1/2 cup fresh blueberries
Preheat the oven to 350°F.
Combine the peanut butter, coconut oil and maple syrup in a small saucepan and warm gently over a low heat, stirring well until everything is combined.
Remove from the heat and stir in the oats, mixing well.
Gently stir in the fresh blueberries.
Grease a small ovenproof tin or dish – we used a small loaf tin.
Spoon the mixture into the tin and press it down firmly until the surface is even.
Bake for 20 minutes until lightly golden.
Remove from the oven and allow to cool to room temperature in the tin.
Place the tin into the fridge for at least 2 hours, then remove and slice as required.
Note: The cooling time is necessary for the coconut oil to solidify, which makes the mixture firmer and easier to slice.
Keep any leftover bars in the fridge for up to 2 days. This recipe freezes well, so why not double up and make a batch so you'll always have breakfast bars on hand for busy mornings!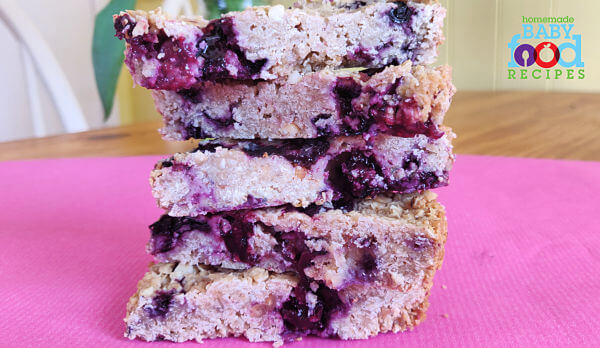 Don't miss…
More blueberry baby food recipes
Our guide to introducing finger foods