This recipe combines sweet potato, banana and natural peanut butter to create a delicious treat for your baby, but one that's healthy too!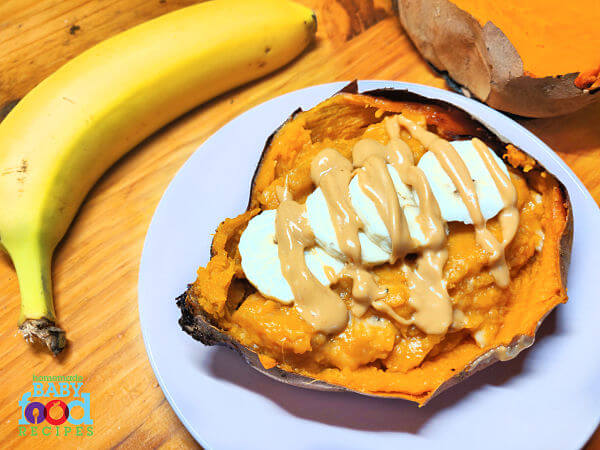 Whilst sweet potato is brimming with beta-carotene and is one of the most nutritious vegetables around, banana is a great source of potassium and contains lots of other minerals and vitamins.
The protein-packed peanut butter drizzled on top brings even more goodness, plus lots of lovely flavor.
This recipe is suitable for babies from 4 to 6 months plus (although it may need to be completely pureed for younger babies).
It would be wonderful served at any time of day, making a filling breakfast, a fun lunch or even a naturally sweet dessert!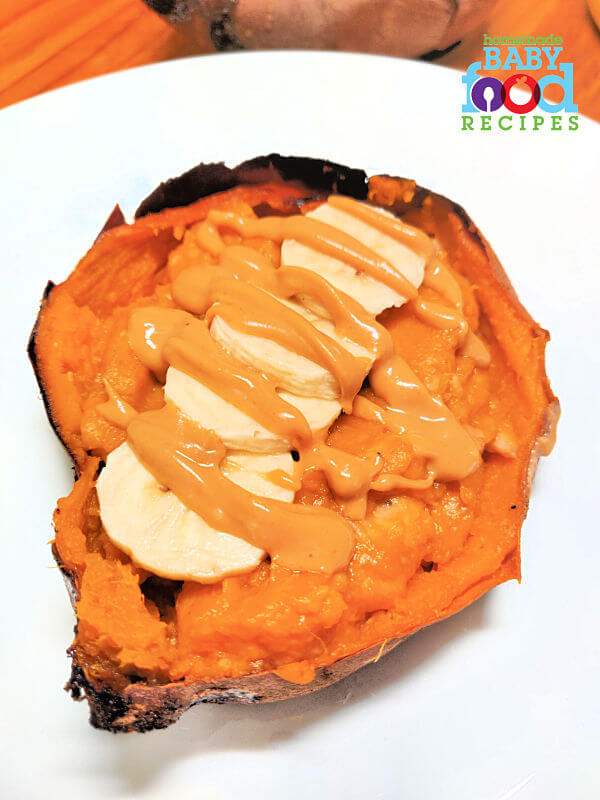 Is peanut butter safe for babies?
Infant nutrition guidelines used to warn against including peanuts in babies' diets because of the risk of an allergic reaction.
In recent years, however, the guidance has changed.
Researchers involved in a large-scale UK study into peanut allergy discovered something interesting.
They found that that the regular inclusion of peanut-containing foods in the diet from an early age reduced the risk of developing peanut allergy by 81%.
This led to a complete revision of the rules and it is now generally recommended that babies be introduced to peanuts from as early as 4 to 6 months, depending on individual circumstances.
Please see the article – When Can My Baby Eat Peanuts – for more information. And please remember that you should always discuss the introduction of any new foods with a medical professional.
Adjusting the texture for different ages and stages
This dish – as shown in our photos – is great for older babies who can cope with the banana slices.
For younger babies, you may prefer to simply place all ingredients – including the peanut butter – into a blender to create a completely smooth texture.
Time-saving tip
Whenever we are baking sweet potatoes for a family meal, we always pop in a couple more than we need. We then allow them to cool and put them into the freezer to use another day in our baby food recipes.
You can freeze them with or without their skins. With this recipe, it's a fun idea to serve the sweet potato in its skin, but of course, it will taste just as delicious if you serve the filling in a bowl instead!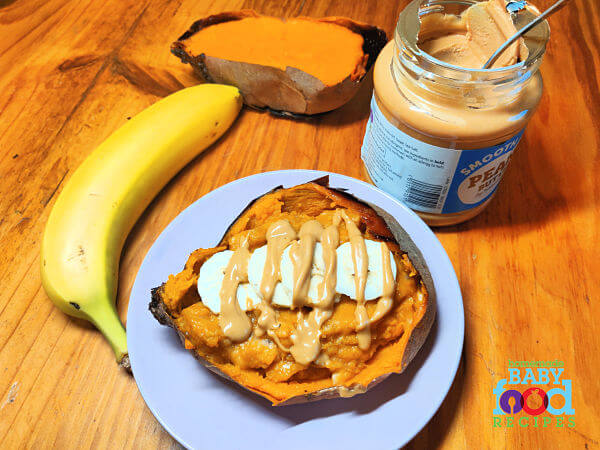 Optional extras
You can add even more toppings to this dish for extra texture or added nutrients, depending on the age of your little one.
Some yummy ideas include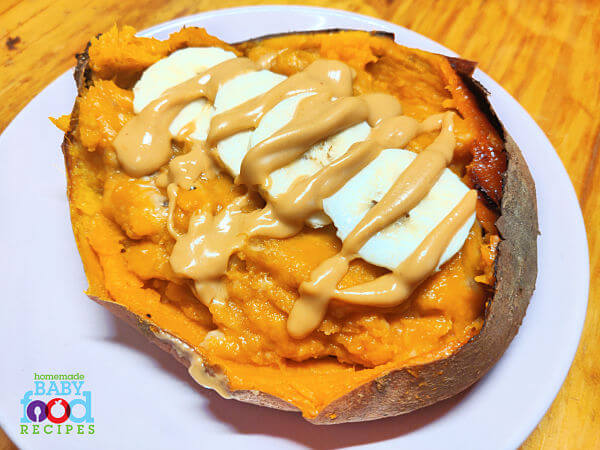 To make Baby's Loaded Sweet Potato with Peanut Butter Topping you will need…
1/2 small sweet potato, baked in its skin and still warm
1/2 ripe banana, plus a few extra slices to decorate
2 teaspoons smooth, natural peanut butter
Scoop the flesh from the sweet potato skin into a bowl.
Add the banana and mash together thoroughly.
Return the sweet potato/banana mash to the sweet potato skin.
Put the 2 teaspoons of peanut butter into a small bowl and warm in the microwave until fairly runny. How long this takes will depend on your microwave – in mine it took 30 seconds.
Drizzle the runny peanut butter over the top of the sweet potato and serve.
Alternatively: Blend the cooked sweet potato, banana and peanut butter together to create a smooth puree for younger babies.