Delicious strawberry cakes, frostings, and fillings are always in demand in the warm spring and summer months when strawberry season is in full swing and we're all craving refreshingly light and fruity desserts!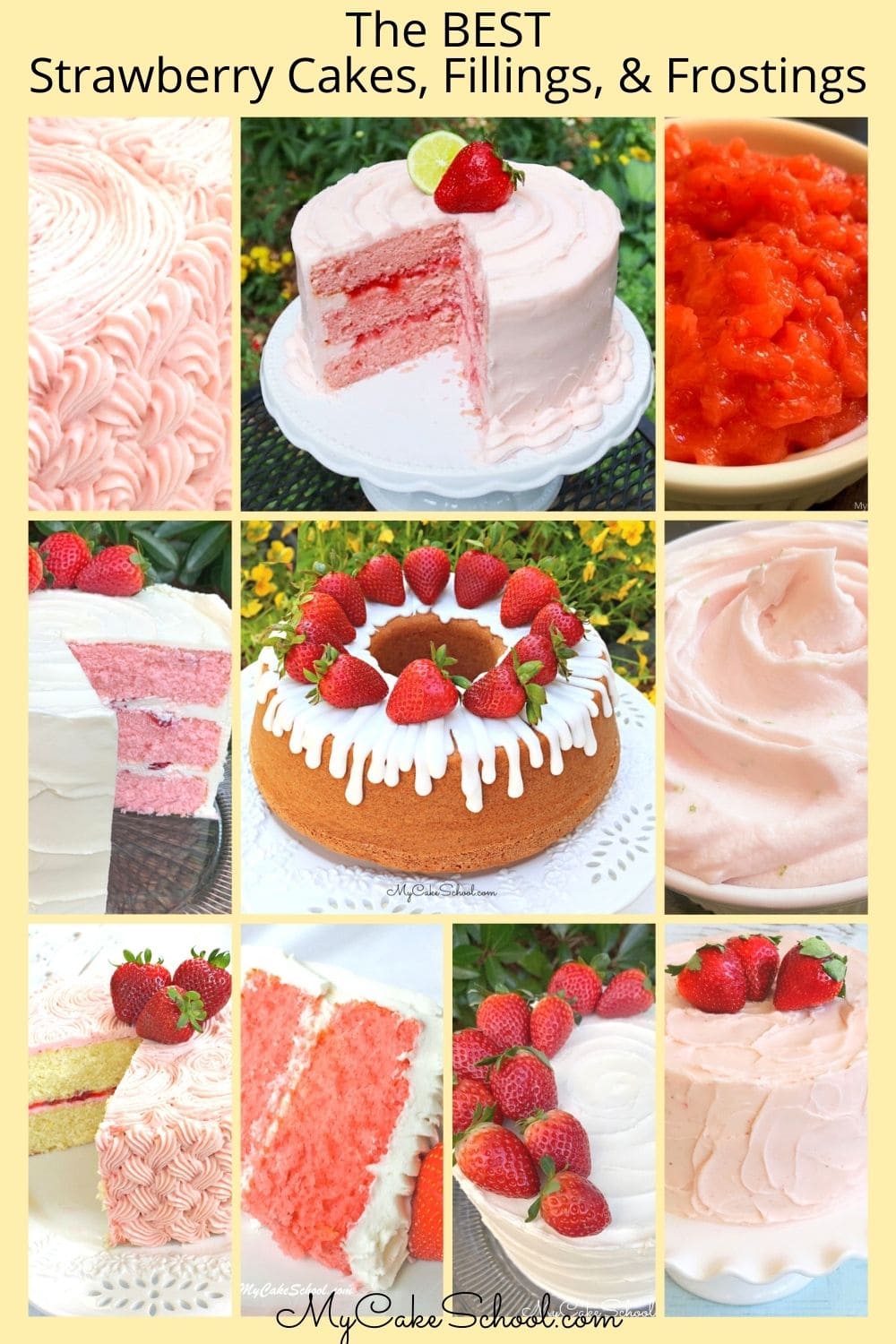 Today, we're sharing our favorite strawberry cakes, frostings, and fillings that we've made over the years– whether you are celebrating a birthday, baby shower, or just satisfying a strawberry cake craving just because- you are sure to find something to love on this list! 
While we especially love strawberry cakes in the spring and summer months, these recipes can also be made with frozen strawberries, making them a perfect choice no matter what time of year. Enjoy scrolling through this roundup of our favorites!
Today we are sharing a roundup of our favorite go-to recipes for strawberry cakes, fillings, and frostings! You are sure to love these crowd-pleasing strawberry recipes!
This moist Strawberry Pound Cake is heavenly! We love the strawberry flavor- it's the perfect cake recipe for spring and summer, or for the strawberry lovers in your life!
This Strawberries and Champagne Cake is so easy and delicious- and it all starts with a simple cake mix! It works great for cupcakes too!
This moist and flavorful Strawberry Daiquiri Cake is such a fun summertime or party cake- a delicious balance of strawberry, lime and a hint of rum flavors!
This creamy and delicious Strawberry Daiquiri Cream Cheese Buttercream Frosting is flavored with strawberry, lime, and rum!
We love this delicious Strawberry Buttercream recipe!
We love the combination of Strawberry and Lemon in this moist and delicious layer cake!
Delicious and easy Strawberry Cake Filling for Cakes and Cupcakes! This strawberry filling recipe is enough to fill a three layer 8 inch cake.
Delicious Strawberry Sour Cream Cake with White Chocolate Frosting! This moist scratch strawberry layer cake is sure to please a crowd!
This moist and flavorful Strawberry Cake from scratch is a favorite year-round! Moist homemade strawberry cake layers go perfectly so many fillings and frostings, from cream cheese to whipped cream, strawberry, vanilla buttercream, and more!
This has been one of most popular strawberry cakes over the years as it has so much flavor and is super easy to make! It all starts with a simple cake mix.
We LOVE this light and dreamy Whipped Cream Cheese Filling recipe! It is easy to make, flavorful, and makes the perfect filling for cakes and cupcakes!
This moist and delicious homemade Chocolate Covered Strawberry Cake recipe is a crowd pleaser! Everyone loves chocolate covered strawberries, and this dressed-up recipe with a rich ganache drip makes it even more special.
This sophisticated Champagne and Strawberries Cake is amazingly moist and flavorful!