Pancakes have always been one of our favourite baby foods because they are so easy for little ones to eat.
You can just cut them into bite-sized pieces for self-feeding and they have a nice, soft texture that's easy for your baby to manage – even if he doesn't yet have any teeth.
What's more, you can use all sorts of healthy ingredients to prepare them – from Sweet Potato and Apple to Whole-Grain Oatmeal and Raisin.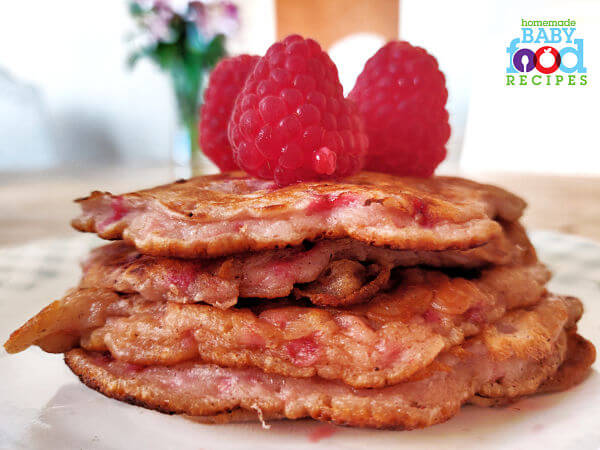 Over the weekend we made some with fresh raspberries – an ingredient we hadn't actually put into pancakes before – and boy, were these a hit!
Not only did the raspberries give them a rich, fruity flavour and luscious texture, they made them look so very pretty too!
Ideal for babies who have already started biting and chewing, these pancakes are perfect for breakfast and tasty enough for the whole family to enjoy! This recipe makes 4 to 5 mini pancakes – but why not double up so that you can enjoy some too?
Note: The first time we made these we found the raspberries were slightly too tart, so we made another batch using a little sugar (as in the recipe below).
You can choose to omit the sugar if you prefer. If you do, we'd recommend serving them with a banana puree topping instead of natural yogurt – this will add a little natural sweetness to them.
To Make Homemade Raspberry Pancakes for Baby You Will Need…
1/2 cup all-purpose flour
1/2 tsp baking powder
1 tbsp caster sugar (optional – see note above)
1/4 cup whole milk
1 small egg
1 cup fresh raspberries
1 tbsp unsalted butter
In a bowl, combine the flour with the baking powder and caster sugar.
In a small jug, beat the milk and egg together.
Gradually beat the egg/milk mixture into the dry ingredients, whisking well to make sure the mixture is smooth. This should create quite a thick batter. Refrigerate for 15 minutes.
Meanwhile, puree the raspberries either by using a hand blender or putting them into a food processor. Alternatively, push them through a sieve or mash them with a fork. You can either aim to get them really smooth or do what we did and leave them slightly chunky.
Remove the pancake batter from the fridge and add the raspberry puree a tablespoon at a time, mixing well between each addition. Aim to add around 3/4 of the puree (keep some back to use as a topping). Stop adding the puree if the mixture starts to get too wet.
Heat a non-stick pan over a low to medium heat and add the butter.
Spoon in the pancake mixture to form 4 to 5 small pancakes and cook for around 30 seconds until the top starts to bubble. Turn with a spatula and cook for another 30 seconds.
Serve just as they are, or topped with a mixture of natural yogurt and the rest of the raspberry puree.
You can keep any leftover pancakes in the fridge for up to 2 days, or freeze for up to 1 month.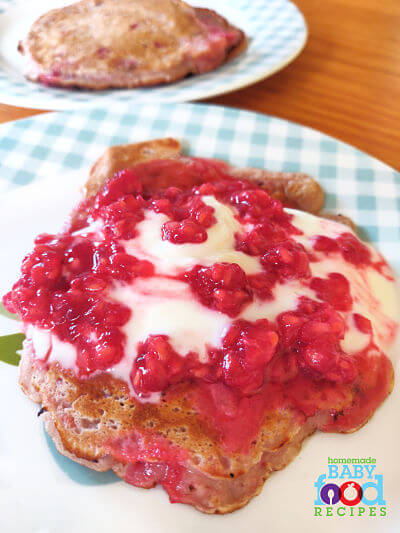 More pancake recipes for baby
Egg Free Carrot & Coconut Pancakes