If, like us, you love to cook, then chances are you struggle to organize all the pots and packets containing your herbs and spices!
We've tried just about every option – those nice little spice racks that sit on the counter (too small), racks that fix inside the kitchen cabinet doors (still too small!), even a drawer totally devoted to herbs and spices (yes, you've guessed it – we outgrew that too!).
Even if your collection of seasonings hasn't outgrown the space you have for it, it can still be hard to find just the herb you're looking for.
That's why we were SO excited to try this brilliant idea we came across on an Instant Pot Community group on Facebook.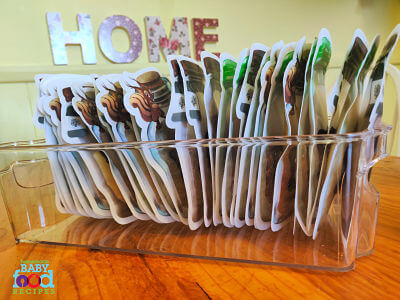 Total. Game. Changer.
Our BIG regret here is that we don't have a 'before' photo to accompany this 'after' one. But let me tell you – it was messy! A drawer full of pots, packets and tubs with absolutely zero logical order!
And now?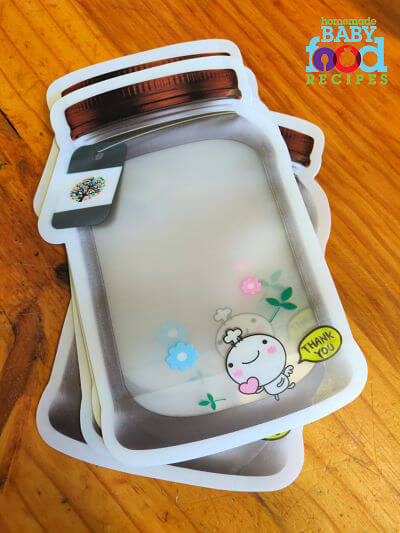 Every individual herb and spice has been transferred to durable, zip-top little bags designed to look like jars.
What's more, these wonderful little bags seal TIGHTLY! This means that not even the tiniest amount of moisture will be able to get in and ruin the contents.
Best of all, everything is now arranged alphabetically, so finding what we need takes just moments!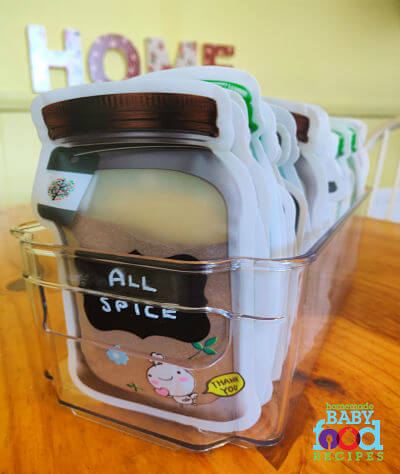 What we used to get our herbs and spices organized
There are lots of different zipper seal bags and labels out there that you can use to store your seasonings, but these are the ones we loved most.
Mason Jar Bags
These bags are just fabulous! Designed to look like jars, they come in a pack of 50, with 3 different designs in 3 different sizes. The largest size is too big for herbs or spices (we used those for rice and pasta instead) but the 2 smaller sizes are perfect!
Each BPA-free bag has a double zipper, so it seals tightly and keeps the contents perfectly fresh.
We chose to place all the filled bags into a storage tray (below), but the bottoms of these bags open out, meaning that they can actually stand up on their own. This is especially useful for the bigger bags that we used for rice and pasta.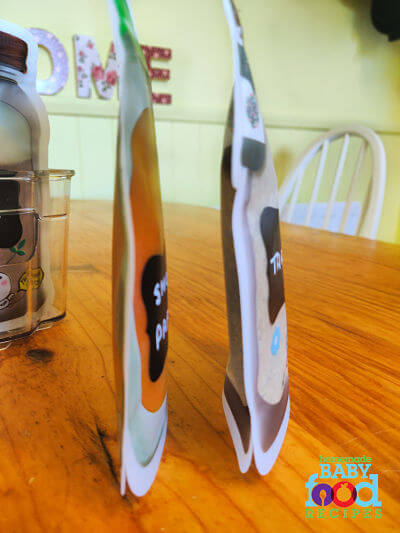 The bags are washable, so in theory, you can use them for different herbs/spices if needed. That being said, seasonings tend to have such strong aromas and flavours that in reality it might not be possible to use them for anything else afterwards.
Top tip: The smallest bags have quite small openings, so use a funnel to fill them – it will make it a lot easier!
Chalkboard Labels
These are ideal for labelling all the bags so that you can arrange them in alphabetical order.
This set comes with a white chalk marker, which is fully erasable. This means that you can wipe off your labels and rewrite them whenever needed. The labels themselves are easy to remove from the bags and reuse if necessary.
Label Stickers Reusable Waterproof and Refrigerator Safe with Erasable White Chalk Marker for Chalkboard Labels (Amazon)
Containers
These come in a pack of 4, which might be more than you need. However, it's easy to underestimate just how many herbs and spices you have! We thought that we would only fill one of these trays – and we have completely filled two!
The trays fit comfortably inside your kitchen cabinet and are ideal for tidying other items besides seasonings, so the spare ones won't go to waste!
So there you have it – an easy way to get more organized in the kitchen! And now that your seasonings will be so easy to find, you'll save time when you're cooking too.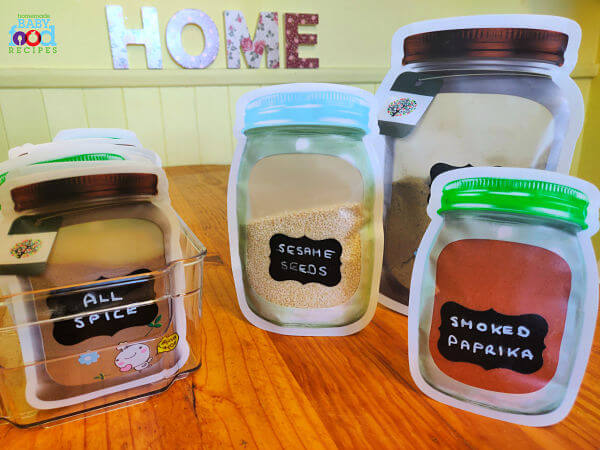 Learn more about using herbs and spices in your baby food recipes